There are many great construction jobs and careers out there building all sorts of projects.  The construction industry provides well-paying lifelong jobs from the trades to management.  While great careers can be made in one of many trades, this website is focused on the degree programs in construction management. 
Degrees in Construction Management provide a knowledge base of basic methods and materials, strength of materials, surveying, scheduling, project management, estimating, construction law, construction graphics, construction accounting, construction safety, construction contracts, and related issues providing a solid base for entry level positions such as project engineer, office engineer, estimator, scheduler, cost engineer, and other related areas.  Most university programs require students to complete at least one industry internship before graduation.  The Project Management skills gained at a university program can be applied to all segments of the construction industry such as commercial, highway, industrial, hospital, marine, clean rooms, residential, refineries, and much more.
Please review the link to the left on Accreditation Bodies to see listings of accredited university degrees
Construction Management: A Career that Pays
Construction management careers are typically leadership positions dealing with large scale construction projects like highways, stadiums, power plants, or hospitals. These projects make up part of every country's critical infrastructure – the places or structures which affect people's quality of life.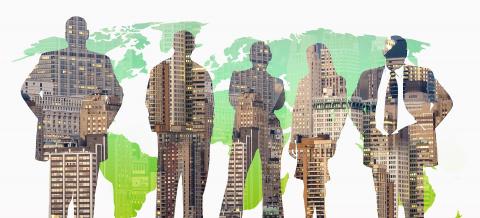 In Capitol Technology University's new construction management and critical infrastructures program, you'll learn about the industry and gain leadership skills through hands on experience. We'll teach you about the many project management skills and software tools used by the professionals and help you understand the importance of not only building critical infrastructures, but securing them in a digital world.
The U.S. construction industry is huge, and it's currently experiencing a high demand for both management and skilled craft workers. "Now is a great time to get into the profession," said President of Capitol Technology University, Dr. Brad Sims. "There aren't enough skilled workers to cover the demand for them, and consequentially salaries tend to be pretty high even at an entry level."
According to studies done by PAS, Inc., contractors are projecting construction staff wages to increase an average of 3.4 % in 2018. Looking at PAS's chart below of 2017's actual forecast, you can see that construction staff have historically not only been earning more money than exempt workers in other fields, but that the industry has room to grow back up to 2007 levels. Even during the worst of the 2008-2009 recession, the construction industry wasn't hit as hard and recovered more quickly than other industries were able to.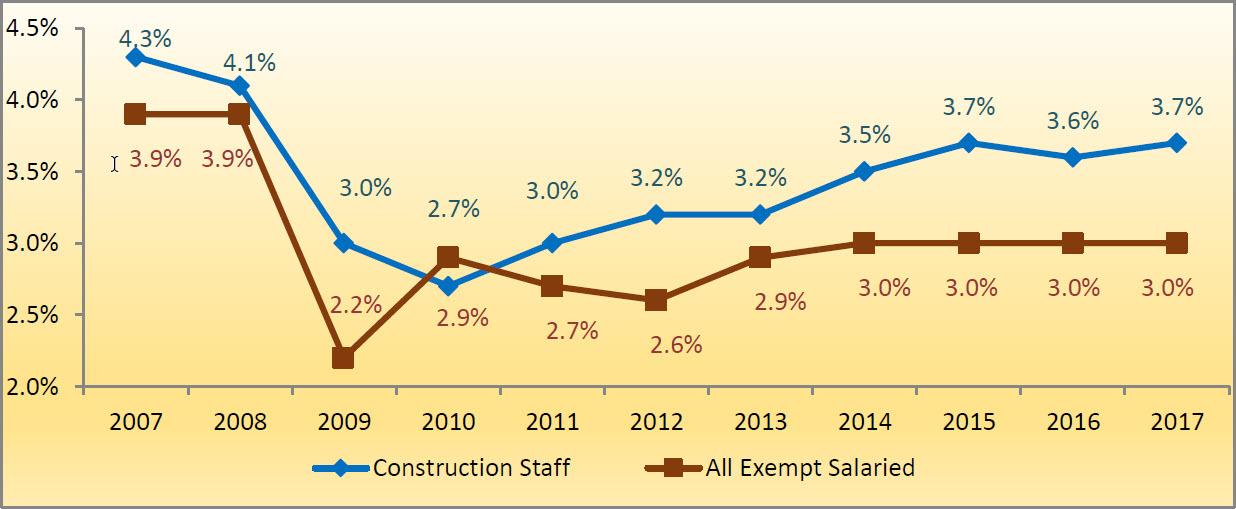 A sample of average construction industry management staff salaries have entry level, new college graduate Field Engineer I's at $62,911 and Project Engineer I's at $68,355. More experienced staff can expect even higher projected salaries, with Project Managers at $112,230, Project Superintendents at $127,543, Construction IT/MIS Directors at $159,950, and Construction Mangers at $164,395 all according to PAS, Inc.
Capitol Technology University's new Bachelors of Science in Construction Management and Critical Infrastructure starts classes on campus in fall of 2019. The program will build students skills to plan, coordinate, budget, and supervise all phases of construction through to project completion based on infrastructure projects.
Average Base Pay For: Construction Manager in 2017
Contractor Type: Construction Management
$145,640 per year
Summary
Construction managers need to coordinate activities on large projects.
Construction managers plan, coordinate, budget, and supervise construction projects from start to finish.
Many construction managers have a main office, but spend most of their time working out of a field office at a construction site, where they monitor the project and make daily decisions about construction activities. The need to meet deadlines and respond to emergencies often requires construction managers to work many hours.
Construction managers typically must have a bachelor's degree, and learn management techniques through on-the-job training. Large construction firms increasingly prefer candidates with both construction experience and a bachelor's degree in a construction-related field.
The median annual wage for construction managers was $89,300 in May 2016.
Employment of construction managers is projected to grow 11 percent from 2016 to 2026, faster than the average for all occupations. Construction managers are expected to be needed to oversee the anticipated increase in construction activity over the coming decade. Those with a bachelor's degree in construction science, construction management, or civil engineering, coupled with construction experience, will have the best job prospects.
Explore resources for employment and wages by state and area for construction managers.
Compare the job duties, education, job growth, and pay of construction managers with similar occupations.
Learn more about construction managers by visiting additional resources, including O*NET, a source on key characteristics of workers and occupations.
What Construction Managers Do
Construction managers often collaborate with engineers and architects.
Construction managers plan, coordinate, budget, and supervise construction projects from start to finish.
Duties
Construction managers typically do the following:
Prepare cost estimates, budgets, and work timetables
Interpret and explain contracts and technical information to other professionals
Report work progress and budget matters to clients
Collaborate with architects, engineers, and other construction specialists
Select subcontractors and schedule and coordinate their activities
Respond to work delays, emergencies, and other problems
Comply with legal requirements, building and safety codes, and other regulations
Construction managers, often called general contractors or project managers, coordinate and supervise a wide variety of projects, including the building of all types of public, residential, commercial, and industrial structures, as well as roads, memorials, and bridges. Either a general contractor or a construction manager oversees the construction phase of a project, but a construction manager may also consult with the client during the design phase to help refine construction plans and control costs.
Construction managers oversee specialized contractors and other personnel. They schedule and coordinate all construction processes so that projects meet design specifications. They ensure that projects are completed on time and within budget. Some construction managers may be responsible for several projects at once—for example, the construction of multiple apartment buildings.
Construction managers work closely with other building specialists, such as architects, civil engineers, and a variety of trade workers, including stonemasons, electricians, and carpenters. Projects may require specialists in everything from structural steel and painting to landscaping, paving roads, and excavating sites. Depending on the project, construction managers may interact with lawyers and local government officials. For example, when working on city-owned property or municipal buildings, construction managers sometimes confer with city inspectors to ensure that all regulations are met.
For projects too large to be managed by one person, such as office buildings and industrial complexes, a top-level construction manager hires other construction managers to be in charge of different aspects of the project. For example, each construction manager would oversee a specific phase of the project, such as structural foundation, plumbing, or electrical work, and choose subcontractors to complete it. The top-level construction manager would then collaborate and coordinate with the other construction managers.
To maximize efficiency and productivity, construction managers often perform the tasks of a cost estimator. They use specialized cost-estimating and planning software to show how to allocate time and money in order to complete their projects. Many construction managers also use software to plan the best way to get materials to the building site.
According to O net Online
http://www.onetonline.org/link/summary/11-9021.00
Summary Report for:


11-9021.00 - Construction Managers
Plan, direct, or coordinate, usually through subordinate supervisory personnel, activities concerned with the construction and maintenance of structures, facilities, and systems. Participate in the conceptual development of a construction project and oversee its organization, scheduling, budgeting, and implementation. Includes managers in specialized construction fields, such as carpentry or plumbing.
Sample of reported job titles: Concrete Foreman, Construction Area Manager, Construction Foreman, Construction Manager, Construction Superintendent, General Contractor, Job Superintendent, Project Executive, Project Manager, Project Superintendent
Tasks
Confer with supervisory personnel, owners, contractors, or design professionals to discuss and resolve matters, such as work procedures, complaints, or construction problems.

Plan, schedule, or coordinate construction project activities to meet deadlines.

Prepare and submit budget estimates, progress reports, or cost tracking reports.

Inspect or review projects to monitor compliance with building and safety codes, or other regulations.

Inspect or review projects to monitor compliance with environmental regulations. 

Plan, organize, or direct activities concerned with the construction or maintenance of structures, facilities, or systems.

Study job specifications to determine appropriate construction methods.

Investigate damage, accidents, or delays at construction sites to ensure that proper construction procedures are being followed.

Prepare contracts or negotiate revisions to contractual agreements with architects, consultants, clients, suppliers, or subcontractors.

Develop or implement quality control programs.
Tools & Technology
Tools used in this occupation:
Level sensors or transmitters — Transit levels
Levels
Notebook computers — Laptop computers
Personal computers — Pocket personal computers PC
Scanners — Large-format scanners
Technology used in this occupation:
Computer aided design CAD software — Autodesk AutoCAD software
Data base user interface and query software — Bechtel Software SETROUTE; Database software; Integrated construction management software; Lombardi Teamworks
Document management software — Axios Systems assyst; Daily Manager; Site Manager
Presentation software — Microsoft PowerPoint
Project management software — HCSS HeavyBid; Quantum Project Manager software; UDA Construction Office Construction Management; Versa-Calc Jobber 6 Construction Calculator
Knowledge
Building and Construction — Knowledge of materials, methods, and the tools involved in the construction or repair of houses, buildings, or other structures such as highways and roads.
English Language — Knowledge of the structure and content of the English language including the meaning and spelling of words, rules of composition, and grammar.
Administration and Management — Knowledge of business and management principles involved in strategic planning, resource allocation, human resources modeling, leadership technique, production methods, and coordination of people and resources.
Engineering and Technology — Knowledge of the practical application of engineering science and technology. This includes applying principles, techniques, procedures, and equipment to the design and production of various goods and services.
Design — Knowledge of design techniques, tools, and principles involved in production of precision technical plans, blueprints, drawings, and models.
Mathematics — Knowledge of arithmetic, algebra, geometry, calculus, statistics, and their applications.
Customer and Personal Service — Knowledge of principles and processes for providing customer and personal services. This includes customer needs assessment, meeting quality standards for services, and evaluation of customer satisfaction.
Mechanical — Knowledge of machines and tools, including their designs, uses, repair, and maintenance.
Public Safety and Security — Knowledge of relevant equipment, policies, procedures, and strategies to promote effective local, state, or national security operations for the protection of people, data, property, and institutions.
Computers and Electronics — Knowledge of circuit boards, processors, chips, electronic equipment, and computer hardware and software, including applications and programming.
Skills
Active Listening — Giving full attention to what other people are saying, taking time to understand the points being made, asking questions as appropriate, and not interrupting at inappropriate times.
Critical Thinking — Using logic and reasoning to identify the strengths and weaknesses of alternative solutions, conclusions or approaches to problems.
Speaking — Talking to others to convey information effectively.
Complex Problem Solving — Identifying complex problems and reviewing related information to develop and evaluate options and implement solutions.
Coordination — Adjusting actions in relation to others' actions.
Management of Personnel Resources — Motivating, developing, and directing people as they work, identifying the best people for the job.
Reading Comprehension — Understanding written sentences and paragraphs in work related documents.
Time Management — Managing one's own time and the time of others.
Active Learning — Understanding the implications of new information for both current and future problem-solving and decision-making.
Monitoring — Monitoring/Assessing performance of yourself, other individuals, or organizations to make improvements or take corrective action.
Abilities
Problem Sensitivity — The ability to tell when something is wrong or is likely to go wrong. It does not involve solving the problem, only recognizing there is a problem.
Deductive Reasoning — The ability to apply general rules to specific problems to produce answers that make sense.
Information Ordering — The ability to arrange things or actions in a certain order or pattern according to a specific rule or set of rules (e.g., patterns of numbers, letters, words, pictures, mathematical operations).
Oral Comprehension — The ability to listen to and understand information and ideas presented through spoken words and sentences.
Oral Expression — The ability to communicate information and ideas in speaking so others will understand.
Written Comprehension — The ability to read and understand information and ideas presented in writing.
Speech Clarity — The ability to speak clearly so others can understand you.
Inductive Reasoning — The ability to combine pieces of information to form general rules or conclusions (includes finding a relationship among seemingly unrelated events).
Near Vision — The ability to see details at close range (within a few feet of the observer).
Speech Recognition — The ability to identify and understand the speech of another person.
Work Activities
Communicating with Supervisors, Peers, or Subordinates — Providing information to supervisors, co-workers, and subordinates by telephone, in written form, e-mail, or in person.
Making Decisions and Solving Problems — Analyzing information and evaluating results to choose the best solution and solve problems.
Resolving Conflicts and Negotiating with Others — Handling complaints, settling disputes, and resolving grievances and conflicts, or otherwise negotiating with others.
Scheduling Work and Activities — Scheduling events, programs, and activities, as well as the work of others.
Getting Information — Observing, receiving, and otherwise obtaining information from all relevant sources.
Interacting With Computers — Using computers and computer systems (including hardware and software) to program, write software, set up functions, enter data, or process information.
Organizing, Planning, and Prioritizing Work — Developing specific goals and plans to prioritize, organize, and accomplish your work.
Communicating with Persons Outside Organization — Communicating with people outside the organization, representing the organization to customers, the public, government, and other external sources. This information can be exchanged in person, in writing, or by telephone or e-mail.
Developing and Building Teams — Encouraging and building mutual trust, respect, and cooperation among team members.
Establishing and Maintaining Interpersonal Relationships — Developing constructive and cooperative working relationships with others, and maintaining them over time.
Work Context
Electronic Mail — How often do you use electronic mail in this job?
Telephone — How often do you have telephone conversations in this job?
Contact With Others — How much does this job require the worker to be in contact with others (face-to-face, by telephone, or otherwise) in order to perform it?
Duration of Typical Work Week — Number of hours typically worked in one week.
Face-to-Face Discussions — How often do you have to have face-to-face discussions with individuals or teams in this job?
Work With Work Group or Team — How important is it to work with others in a group or team in this job?
Freedom to Make Decisions — How much decision making freedom, without supervision, does the job offer?
Indoors, Environmentally Controlled — How often does this job require working indoors in environmentally controlled conditions?
Time Pressure — How often does this job require the worker to meet strict deadlines?
Impact of Decisions on Co-workers or Company Results — How do the decisions an employee makes impact the results of co-workers, clients or the company?
Job Zone
| | |
| --- | --- |
| Title | Job Zone Four: Considerable Preparation Needed |
| Education | Most of these occupations require a four-year bachelor's degree, but some do not. |
| Related Experience | A considerable amount of work-related skill, knowledge, or experience is needed for these occupations. For example, an accountant must complete four years of college and work for several years in accounting to be considered qualified. |
| Job Training | Employees in these occupations usually need several years of work-related experience, on-the-job training, and/or vocational training. |
| Job Zone Examples | Many of these occupations involve coordinating, supervising, managing, or training others. Examples include accountants, sales managers, database administrators, teachers, chemists, environmental engineers, criminal investigators, and special agents. |
| SVP Range | (7.0 to < 8.0) |
Education
| Percentage of Respondents | Education Level Required |
| --- | --- |
| 76  | Bachelor's degree |
| 16  | Some college, no degree |
| 4  | Associate's degree |
This occupation may require a background in the following science, technology, engineering, and mathematics (STEM) educational disciplines:
Engineering — Construction Engineering Technology/Technician
Interests
Interest code: ERC
Enterprising — Enterprising occupations frequently involve starting up and carrying out projects. These occupations can involve leading people and making many decisions. Sometimes they require risk taking and often deal with business.
Realistic — Realistic occupations frequently involve work activities that include practical, hands-on problems and solutions. They often deal with plants, animals, and real-world materials like wood, tools, and machinery. Many of the occupations require working outside, and do not involve a lot of paperwork or working closely with others.
Conventional — Conventional occupations frequently involve following set procedures and routines. These occupations can include working with data and details more than with ideas. Usually there is a clear line of authority to follow.
Work Styles
Integrity — Job requires being honest and ethical.
Leadership — Job requires a willingness to lead, take charge, and offer opinions and direction.
Initiative — Job requires a willingness to take on responsibilities and challenges.
Attention to Detail — Job requires being careful about detail and thorough in completing work tasks.
Dependability — Job requires being reliable, responsible, and dependable, and fulfilling obligations.
Cooperation — Job requires being pleasant with others on the job and displaying a good-natured, cooperative attitude.
Persistence — Job requires persistence in the face of obstacles.
Self Control — Job requires maintaining composure, keeping emotions in check, controlling anger, and avoiding aggressive behavior, even in very difficult situations.
Stress Tolerance — Job requires accepting criticism and dealing calmly and effectively with high stress situations.
Adaptability/Flexibility — Job requires being open to change (positive or negative) and to considerable variety in the workplace.
Work Values
Working Conditions — Occupations that satisfy this work value offer job security and good working conditions. Corresponding needs are Activity, Compensation, Independence, Security, Variety and Working Conditions.
Independence — Occupations that satisfy this work value allow employees to work on their own and make decisions. Corresponding needs are Creativity, Responsibility and Autonomy.
Support — Occupations that satisfy this work value offer supportive management that stands behind employees. Corresponding needs are Company Policies, Supervision: Human Relations and Supervision: Technical.
Related Occupations
Wages & Employment Trends
National
| | |
| --- | --- |
| Median wages (2012) | $39.80 hourly, $82,790 annual |
| Employment (2010) | 523,000 employees |
| Projected growth (2010-2020) |  Average (10% to 19%) |
| Projected job openings (2010-2020) | 120,400 |
| Top industries (2010) | |
Source: Bureau of Labor Statistics 2012 wage data 
 and 2010-2020 employment projections 
. "Projected growth" represents the estimated change in total employment over the projections period (2010-2020). "Projected job openings" represent openings due to growth and replacem
BS Construction Management  Bachelors Construction Management MS Construction Management Masters Construction Management PhD Construction Management Doctorate Construction Management